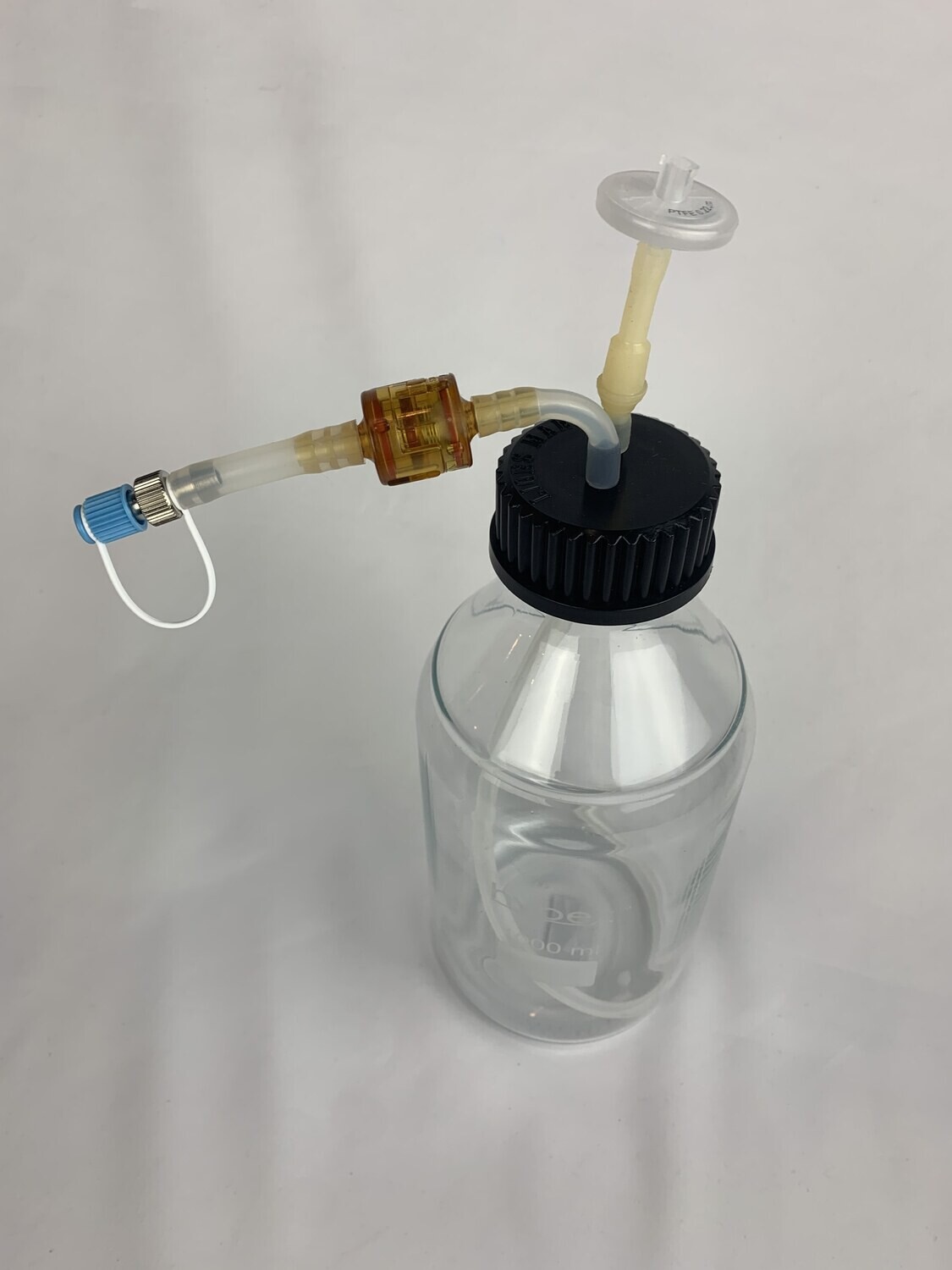 LIQUID MEDIA EXTRACTOR CAP - LION'S MANE BRAND
00010
Product Details
The Liquid Media Extractor Cap by Lion's Mane is designed to provide a sterile environment for media extractions without removal of the lid - ideal for liquid cultures or spore solutions to be withdrawn via syringe.

Click HERE for explainer video!
Our updated version 2.0 of the LM liquid media extractor features a modular check valve, in-line injection port, metal luer-lock connector and comes standard with a luer-lock cap.
Basic features:
- Lion's Mane brand injection molded autoclavable medical grade polypropylene cap (patent pending)
- both ports are 0.118 inch ID x 0.236 inch OD (3 mm x 6 mm)
- 3/16" silicone tubing from check valve to luer lock
- 1/8" silicone tubing for extraction tube, inline injection port, and syringe filter
- metal luer lock allows for connection to any luer lock syringe
- 3/16" modular check valve prevents solution from receding back into the bottle
- in-line injection port to directly inject solution into media bottle without removal of cap
- .22 micron glass mat syringe filter to supply filtered air intake
- standard GL45 lid (standard thread; fits most 500 - 2000mL media bottles)
- fully autoclavable

The extraction tube is outfitted with a check valve to prevent solution receding back into the bottle, as well as eliminating any air bubbles. All parts are removable for necessary cleaning; the entire extractor - bottle and fittings - is autoclavable. Internal silicone tube spirals around the circumference of the bottom of the bottle, allowing extraction tube to be operable while a stir bar (not included) can rotate freely while bottle is on a stir plate. This provides a homogeneous, continuous, and aerobic mixture of media while drawing the solution into a syringe.

Product is shipped with operational manual.
3-MONTH LIMITED WARANTY: all parts and manufacture are guaranteed free of defects. Replacement setup / parts will be available up to 3 months if product has a manufacture defect. Warranty does not cover breakage or damage from improper use. Please fill out your information and upload your receipt for your product warranty here.
Patent Pending
Save this product for later